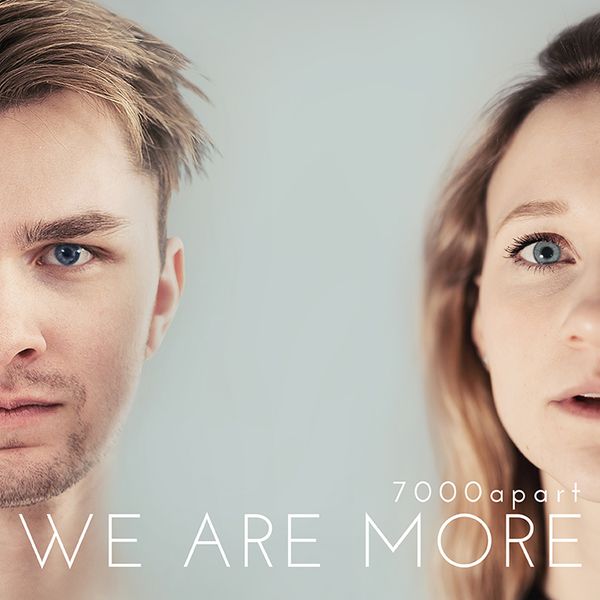 I first clicked into a 7000apart stream this past spring, shortly after lockdown began. I was immediately taken in by their musical chemistry and one-in-a-million love story. Jon and Amelie met in high school, when Amelie was an exchange student visiting the US from Sweden. They started making music together, which helped their relationship stay strong even while 7000 kilometers apart. After three years of long distance, they were reunited and married. That was four years ago, and even though the pandemic snuffed out their touring plans for 2020, it hasn't dulled their light.
I feel so blessed to have gotten to know Jon and Amelie on YouNow, and I was stoked when they asked me to be a part of their Cover to Cover series. I'm always playing piano covers live on stream, but it was really exciting to create my own version of a song and know that the songwriters would hear it. I chose to cover Get Back Up Again, from their 2019 album We Are More because I loved the high energy and exciting vocal range. The album version has terrific horn parts and acoustic percussion that gives it a very natural, down-to-earth vibe. My idea was to electrify it, with distorted guitar and synth layers for a hard rock edge; the kind of thing I love to do at Howl.
In exchange, 7000apart turned my song Coffee into a modern pop bop! It's such a treat to listen to their arrangement and watch the amazing, sassy, adorable music video. I've now seen it dozens of times, and I can't help but chuckle every time I see my picture come up on Amelie's phone in verse two.
I hope you enjoy these cover songs as much as we enjoyed creating them. KM