"You can't use up creativity. The more you use, the more you have."


― Maya Angelou
I've loved words and writing as long as I can remember. So much that for awhile, my love of words took the form of fear: That I might lose them. I was paranoid that inspiration would someday abandon me. Out of fear, I wrote maniacally.
I had a complex system of notebooks; one for mornings at the kitchen table, one I took to school, one next to my bed. I stayed up late every night, and when my mother knocked on the door scolding me to turn out the light, I would hold my breath in the dark until the sound of her footsteps disappeared, then toss the comforter over my head and write by flashlight. I was determined to archive my life in fountain pen. I scribbled songs, prose, poems, and stories I planned to eventually turn into novels. I journaled daily, faithfully from 1998 to 2011.
Then rather suddenly, I stopped.
It should have been more alarming, but I was so caught up in my life, treading water and trying to get ahead. I finished my music degree and I was determined to use it. Juggling my day job with shows and rehearsals, desperate to make some kind of break happen with my band. All the while doubting myself; if I had what it takes, and if I deserved success.
Looking back now, it seems obvious. Of course that's not the right mindset for writing. Maybe I didn't notice because I was still "writing" plenty. I wrote rehearsal notes and lesson plans. I wrote contracts and grant applications. I wrote songs that I thought people wanted to hear. It seemed like a very creative life on the surface, but inside I was drowning.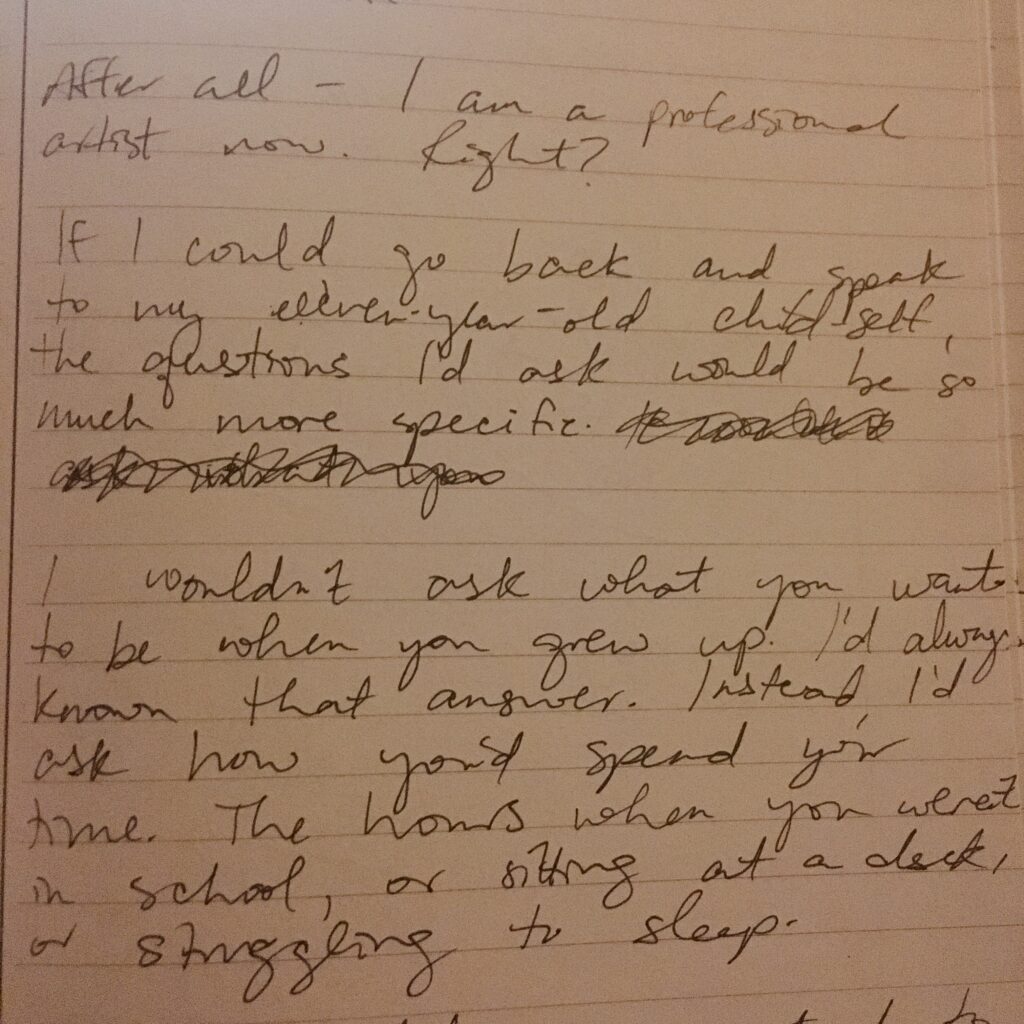 One night in May 2014, I returned to my journal, and it wound up being a kind of turning point retrospectively; like the end of an act. It was an unspectacular day; nothing eventful to report. I had trouble sleeping and felt like having a conversation with myself on paper. Once I started writing and saw the words of my dilemma staring back at me in black and white, the clouds parted. I set out a course to correct my trajectory, and though it got a lot worse before it got better, I found my way. Now I find myself going back to that diary entry a few times every year, to make sure that I staying focused doesn't mean losing perspective.
What's the perspective?
For me, it's a delicate balance. Being able to do what I love for a living is a dream come true, but it makes the line between work and play so blurry. There's a slippery difference between being productive and being creative. Success is setting a goal and working until you achieve it. Happiness happens when you're playing and stumble upon what you wanted all along, inside the process. They can be two sides of the same coin.
So why am I writing this now? Mostly for the sake of writing, to remember THIS NOW. But also to express my gratitude.
I'm thankful for 2020, this wild year that's turned the world upside down and forced me to see it from a different angle. I'm thankful for this time to incubate my thoughts and plan for the future. I'm thankful for the internet, YouNow, and the new friends I've made in the age of social distance.
I'm especially thankful to Keith Paluso, for starting the WeCreateNow daily creativity club. We're now in our fifth month! When I submitted my first story prompt in May, I only imagined a community like this would emerge. I love getting to know people through their words, music, and art. I love seeing others gain confidence and try new things. And I love how the practice of creating every day is changing me. This project has given me a kind of spiritual strength I never expected, even as someone who's been writing and scribbling for a very long time.
[bandcamp width=100% height=120 track=2491809320 size=large bgcol=ffffff linkcol=2ebd35 tracklist=false artwork=small]
Keith wrote this beautiful little song when we celebrated "Createmas" on day 100. I cried when I heard it the first time and I'm crying again now, thinking back to the beginning of the pandemic and how much I needed this WCN family. Today he released it on Bandcamp, so if you love it as much as I do, be sure to download it there, where half of all proceeds will go to Music Export Memphis. You can also check out Keith's Patreon to hear the whole story behind this and virtually all his songs.
If you need a little more creativity in your life, you need to join us! Every day, @wecreatenowproject shares an Instagram Story photo and asks you to comment with a creative caption. Then live at 11am eastern the next day, we draw one story prompt to use as the inspiration for songs, poetry, and art of all kinds. I share my haiku on Twitter and songs on YouTube, and we all post our creations on Discord. Hope to see you there someday soon… KM